Jammy Gallery
is a
not-for-profit art gallery & yoga space
run by a very dear friend of mine and her partner – Nicky is brimming with enthusiasm and has created this amazing 'space' in Alexandria (nestled right near FBi Radio and Troy Horse studios) where Music, Yoga, Spoken Word & Art all come together and let the local community create, be alive, and cultivate that spark within all of us! In their own words:
Jammy
is synonymous with those times when artists improvise & jam together for intuitive, inspiring & spontaneous creations. Sometimes they work, sometimes they don't. The real value is in the process and taking a risk to find something that is authentic, enjoyable & moving.
Jammy aims to encourage creative practices, physical/mental health and the experimental expression of all artists. To develop this creativity and social integration we provide yoga to the local community, aiming to connect this ancient practice to the arts in ways that are supportive, interrelated, uplifting & inspirational.
We would like this space to evolve as an interactive space, where people in the local community contribute and receive exchange.
Music - the influence for your next art exhibition? Yoga - the inspiration behind your next sculpture? Spoken word - animating your next film or live performance Art - enriching your yoga practice
By exploring different ways to infuse the creative spark within us all, without prejudice & an informed, adaptable mind, we can experiment with new and established art forms to reflect and influence the community around us.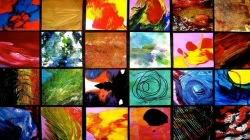 Please support your local community – sign up to Jammy for their email updates and check out the most beautiful space if you get a chance!!
**Pictures from Jammy Gallery Exhibitions: Top to Bottom ->
Autism Awareness Week
Meandering
Muktananda